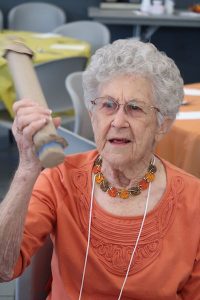 CarePartners programs are located across the Greater Houston area. CarePartners collaborates with more than 71 different partners who host our programs. Caregivers and individuals living with memory loss or other challenges of aging must register by completing a registration intake with a CarePartners Coordinator prior to attending a Gathering Place, Common Ground or Second Family program. Programs are offered at no cost but you must register prior to attending. ALL registration must be done by a CarePartners Coordinator. Dates and times are indicated once your eligibility to participate has been approved and your registration intake is complete.
Cost:  Free
Registration:  Required
Step 1: Click the zip code locator search below to find a program near you. Enter in your zip code and click the radius you are willing to drive. Do not contact the host site to register, all registration and eligibility to participate is completed by CarePartners.
Step 2: Only ONE email to a CarePartners Coordinator to learn more about how to register for a program near you is needed. In the email inquiry include the following:
Cell or home phone number
Your name and name of the person you are caring for
Details about your need
Name of each location you are interested in attending
Step 3:CarePartners Coordinator will email you back to set up a time to complete your registration intake before you are able to begin a program.
Locate a Program
Please contact the CarePartners primary contact to learn more about how you can participate in a program. Registration is required prior to attending a program at one of our host sites (congregations and nonprofits). Dates and times for each program are given after your registration intake is complete. Primary contact number: 713-682-5995.
It looks like there are no Partners in your area that are in the program you selected.
---